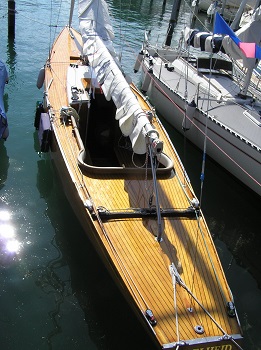 Adelheid GER 41 for sale
Year: 1939
Designer: Henry Rasmussen
Location: Germany, Konstanz, Lake of Constance
Condition: very good
Price: 79.000,00 €
History: The boat was designed by Henry Rasmussen and built in 1939 in Kiel by Abeking & Rasmussen. The first name was Irmi.
Since 1955 the boat is located on the lake of constance. At that time Adelheid got a little cabin.
1980 renovation underwater
2013 new mast (John Mast)
Hull: Mahagony (varnished)
Deck: Pitchpine (varnished)
Adelheid sails many regattas on the lake of constance and the European 2010 in Brunnen, Switzerland.
Contact: anita-hotz@web.de