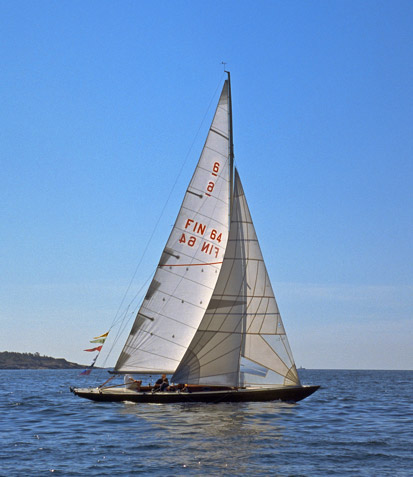 HISTORY
2018 measurement
Lengde 10.948, girth 1/4 G 0.827, differanse 2d 0.040, sailarea sqrt S 6.515, fribord F 0.763
NORNA III (N 49) was owned by H.R.H. The Crown Prince of Norway. She was built by Anker & Jensen in 1933, according to Lloyd's. Then she was renamed NOXAN and then NORDLYS.
DNV NorwayThey found drawings and some other documents for a 6 mR yacht built by Anker & Jensen in 1932. The hull yard vessel number for this is 369. The name for the yacht at the time was "Norna 3". It looks from our files that "Nordlys" and "Noxan" where later names for this yacht. I still have two candidate name of my yacht: Lisbeth V (Sail # N46 hull 366 ?) or Norna III (Sail # N49 hull 369), this two yacht are sister vessels. Then I found my second candidate Lisbeth V (N 46) from sweden: Lisbeth V
BEST RACE?
RECENT YEARS
Emzia has been sailing as a holiday family yacht.
CREW FOR 20181 SEASON
Antti Aliklaavu

AIMS & GOALS FOR NEAR FUTURE
To get her original shape back again.
FORMER NAMES AND OWNERS
Nr Names Locations Owner Years
N 49 NORNA III, K.N.S Oslo? H.R.H Crown Prince Olav 1933 -
N 49 NOXAN, K.N.S Risør, Chr. Anker, 1934 - 36
N 49 NORDLYS, K.N.S Bergen, Harald Aase, 1936-52
N 49 JACARANDA, K.N.S Oslo, R.J. Christophersen, 1952-67
S 32 EMZIA, Göteborg ? Lennart Sterner 1972-74
S 32 EMZIA Sweden ? G Karsson 1974-?
S 32 EMZIA, SXK Stockholm Lennart Petterson & Lena Thulin 1981-93
S 32 EMZIA SXK Stockholm Jens Ugland & Anita Thulin 1991-93
S 32 EMZIA ÅSS Stockholm Mikael Brodin 1993-95
S 32 EMZIA Stockholm Pekka Ollakka 1994 -
S 32 EMZIA Salo Heikki Peura 1994-96
FIN 64 EMZIA SPS Helsinki SPS Antti Aliklaavu, 1996 -