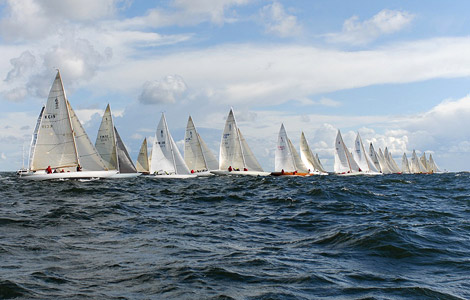 After a long wait in the morning finally the wind was filling in and the first start signal was fired at 14.30.
In a fresh 12-14 knots of westerly wind Junior FRA 177 took the lead in the modern fleet. They kept it to the finishing line and therewith secured the World Cup win of modern Sixes. Second in the race was Sting SWE 123, third May Be XIV SWE 115. After having already taken the title Junior FRA 177 did not start the last race and let the others fight for the following positions. May Be XIV won the last race and took second overall. Former world champion, Sophie II SWE 132, took the third place.
The classics started in increasing wind reaching 15 knots. The first boat to round the windward mark was Lucie US 55 tightly followed by Nada K 12, Jolanda FIN 39 and Sara af Hangö FIN 49. Next time the boats rounded windward mark Llanoria US 83 came first followed by Lucie US 55, Nada K 12, Great Dane DEN 65 and Sara af Hangö FIN 49. First boat to cross the finishing line was Llanoria US 83 then Lucie US 55, Great Dane DEN 65, Nada K 12 and Sara af Hangö FIN 49.

Standings in the total results after the sixth race was that Sara af Hangö FIN 49 was leading by two points before Llanoria US 83 and Gallant KC 10 was only one point behind Llanoria US 83.

The final race was on its way at 16h15. Great Dane DEN 65 turned first to the downwind leg holding a convincing lead. Lucie US 55 was second and third was Sara af Hangö FIN 49. Llanoria came as ninth and Gallant close behind. The rest of the race the Finnish crew on board Sara af Hangö sailed by the book finishing fourth while controlling their main opposition carefully. By doing this they secured their World Cup victory in style.
The Regatta was successfully completed despite of all the troubles with the unstable wind, lots of rain, AP up and down plus restart after restart etc.

Seven starts out of six were sailed in fine conditions; the sailors and organizers should all be satisfied.
Results of the day

Moderns
First race:
1.Junior FRA 177
2. Sting SWE 123
3. May Be XIV SWE 115
Second race:
1. May Be XI SWE 115
2. Sting SWE 123
3. Berta SWE 121
Classics
First race:
1. Llanoria US 83
2. Lucie US 55
3. Great Dane DEN 65
Second race:
1. Great Dane DEN 65
2. Lucie US 55
3. Flapper N 71
SEB SIX METRE WORLD CUP Final results:
Moderns:
1. Junior FRA 177 Yann Marilley
2. May Be SWE 115 Patric Fredell
3. Sophie II SWE132 Hugo Stenbeck
Classics:
1. Sara af Hangö FIN 49 Henrik Tenström
2. Gallant KC 10 Eric Jespersen
3. Llanoria US 83 Erik Bentzen
4. Seasta DEN 66 Erik Tinglef Larsen
5. Fridolin FIN 12 Henrik Lundberg
Complitely result list you will find at njk.fi/images/stories/kappsegling/2011/6mRWC/results.htm

Pictures of the event at sailpix.fi