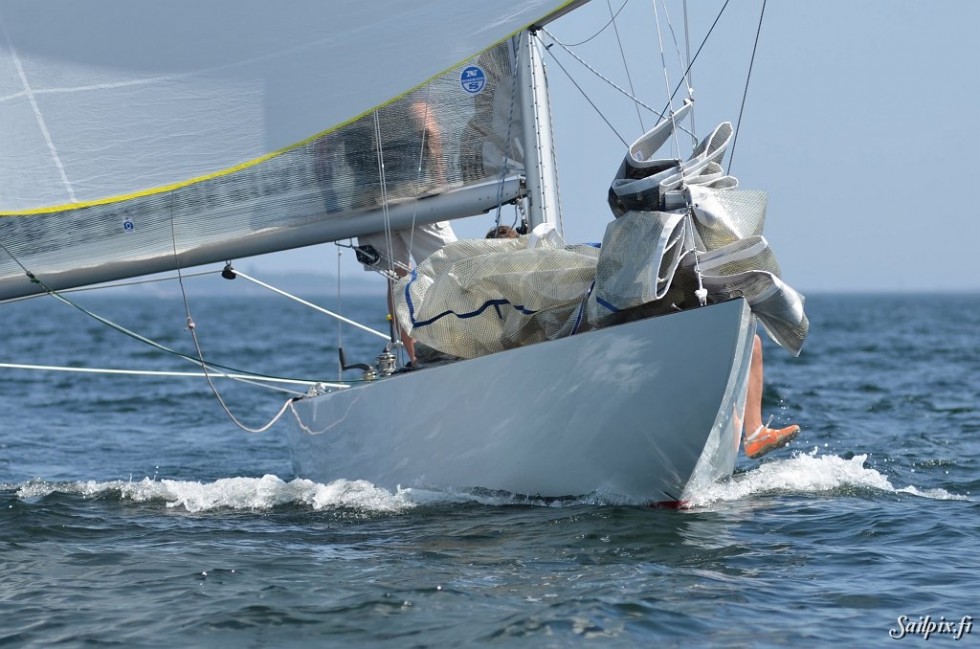 Fandango was owned by Holger Sumelius over thirty years. The yacht participated regattas only the first three years. In the sixties Sumelius sold the boat to his step-son Johan Avellan. During those times Fandango was rebuild to a cruiser and it was attached with a dockhouse and big side windows.
HISTORY
Heimo Iivonen bought Fandango in 1984. In summer 1984 the new and old 6 mR-owner sailed the yacht from Emäsalo to Helsinki. During the journey Fandango started to leak heavily, sails were changed to smaller ones to avoid bigger heeling, but the yacht managed to reach Suomenlinna safely without problems. After few days Heimo and his son Veli-Matti lifted Fandango on the SuPs-boatyard in Suomenlinna. Leaking mahogany plank joints were repaired with waterproof two component adhesive and plastic tape, after tapes being dried, they were painted with antifouling.
In February 2011 Fandango returned "home" to its original owner when Susanne Ramberg, daughter of Johan Avellan, with family became the new owners. The Avellan family had done holiday sailing trips with Fandango from the 1950s to the 1970s every summer which means that Susanne had together with father, Johan Avellan, mother and two sisters during her childhood and teenage years sailed with Fandango for 25 summers. We wish Fandango a warm welcome back home!
RENOVATION HISTORY

Boats every broken frame was repaired during winter 1984. In 1985 yachts white painting were completely being burned away. The hull was totally impregnated and varnished. The wooden mast broke during the Regatta of Helsinki 1987. In summer 1988 Fandango raced in regattas again, but with an aluminium mast and boom.
The deck layout was repaired during winter 1988-1989 on the Viapori dockyard in Suomenlinna. Old plastic deckmaterial was replaced with birch vaneer, teak and mahogany planks. All the work was done and financed mostly by the owners.
BEST RACE RESULTS

6 mR-Class Championship, second, 1996, Merenkävijät, Helsinki
Merenkävijät 75 Year Jubilee Regatta Part 2, winner, 1997, Merenkävijät, Helsinki
Viaporin Tuoppi Wooden Sailboat Regatta many silver and bronce places, but the gold will be ours in one of these days.
TEAM JURA CREW 2012

Sailing: Philip Ramberg, Fred Ramberg, Annina Suves, Dan Anttila, Harry Brunow, Oskari Eskola and Antti Pelli. Landcrew manager, Susanne Ramberg
SPONSORS
Our main sponsor for the seasons 2011-2013 will be the prime end coffee machine brand Jura. The team is named after our main sponsor and all our spinnakers´ will be equipped with the Jura logo. Go and check out the world of coffee on Jura´s homepage www.mtoy.jura.com. We would like thank our sponsor for their co-operation with us so far and wish that Jura enjoyes the upcoming sailing season as much as we do.
AIMS & GOALS

Our aim is to actively learn and train and also to take part in as many regattas as possible. We aim to keep the boat in very good racing condition and also to enjoy the company of other 6mR sailors.
RECENT NEWS

Fandango will for the second summer in a row, in her new home, be docked at NJK, Blekholmen. She has been repainted for the season 2012, we have done minor repairs on the bow and also done some other small upgrades. Our next aim is to renew the mast. The hull itself is in very good condition, which can be confirmed by the fact that Fandango has not leaked at all for two years in a row when she has been launched into the water. North sails will be used in upcoming regattas.